Changelog
Version 1.3.9
Aug 25, 2020
Fixed cookie bar flickering when critical css is enabled in theme.
Version 1.3.8
Aug 7, 2020
Fixed ability to translate I accept following cookies: ... phrase via admin configuration Stores > Configuration > Swissup > GDPR > Personal Data Consents > Cookie Consents
Do not show empty "Cookie Settings" on "Privacy Tools" page when it's disabled.
Version 1.3.7
Aug 5, 2020
PHP 7.4 compatibility.
Allow to translate cookie title and description via i18n files.
Do not show cookie bar until scripts are ready.
Fixed newsletter signup styles in Magento 2.4.
Place consents before captcha/recaptcha field.
Version 1.3.3
Jun 18, 2020
Fixed DB error when customer logging in.
Version 1.3.2
May 7, 2020
16 locales added to translate backend and frontend phrases:

Arabic
Chinese
Dutch
French
Hebrew
Italian
German
Japanese
Norwegian
Korean
Polish
Portuguese
Russian
Spanish
Swedish
Ukrainian
Version 1.3.1
Apr 27, 2020
Fixed error during static content deploy when theme buttons use gradient for background.
Fixed cookie bar positioning when theme uses margins on page-wrapper.
Version 1.3.0
Apr 17, 2020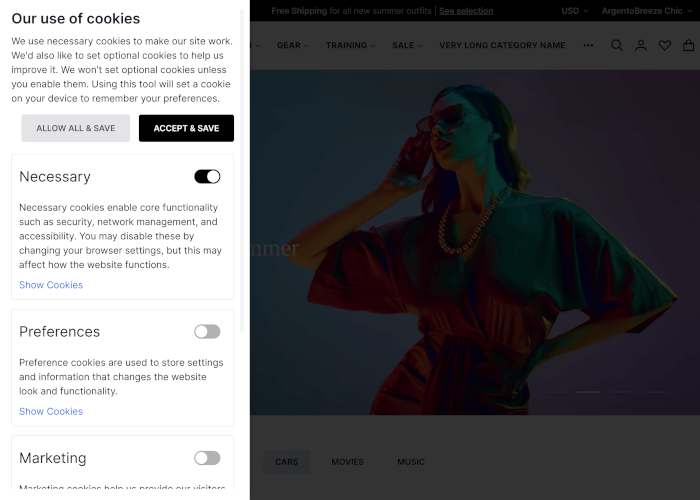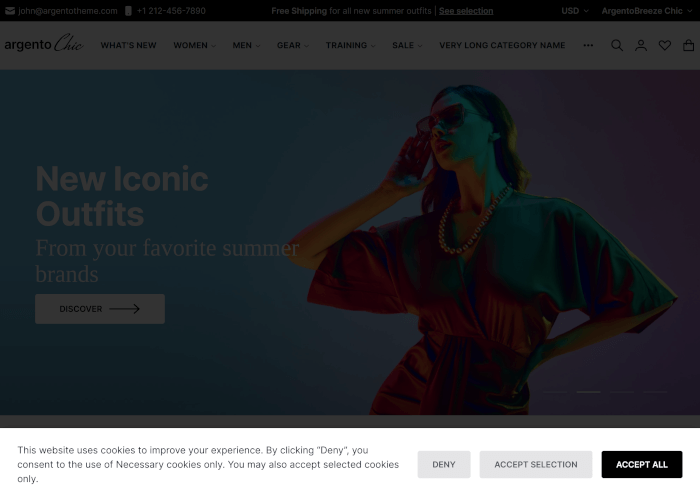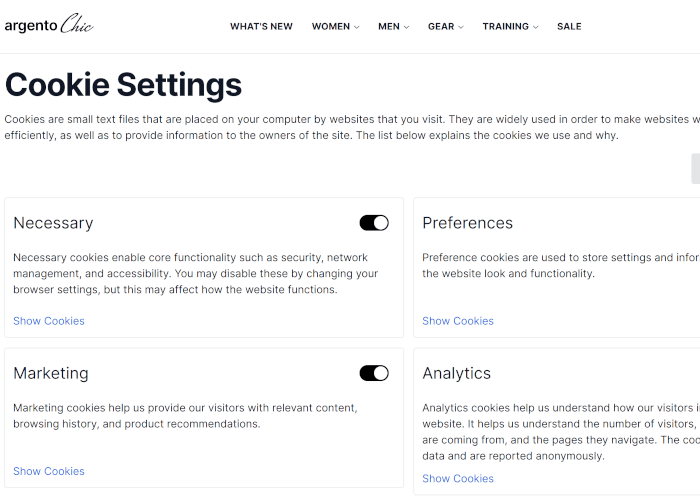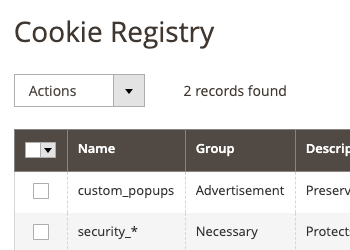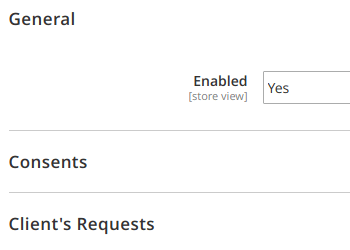 Cookie consent feature added. Here is some highlights of the new feature:
Cookie bar banner in minimalistic and full display modes.
Separate page to control cookie settings.
Cookie settings at customer account page.
When the user creates an account, guest cookie consent automatically links with this account.
Module blocks all optional cookies until visitor accept consent.
Accepted cookie consent is saved into DB.
All unknown blocked cookies automatically added to the backend list, so you can regulary check if all cookies that are used on the site are in the consent list.
Store owner can register unlimited count of additional cookies and groups.
All magento cookies are known by the module out of the box.
Version 1.2.3
Feb 17, 2020
RTL fixes for newsletter consent
Version 1.2.2
Jan 31, 2020
Fixed broken ACL resources page in Magento older than 2.3.4
Fixed too large margin in newsletter checkbox in Magento 2.3.4
Version 1.2.0
Jun 4, 2019
Added consent text to the "Newsletter Subscriptions Management" page.
Added ability to withdraw newletter consent for registered customers. (Available at "Newsletter Subscriptions Management" page inside customer account.)
Fixed not working form autocomplete when gdpr is initialized on the form.
Upgrade Instruction

Navigate to module configuration and check "Show in Forms" option for Newsletter consents config. Two forms should be selected:

Magento: Newsletter Subscription
Magento: Newsletter Subscription Management
Version 1.1.4
May 29, 2019
Fixed missing consents at account privacy page when cache is enabled
Fixed not working customer link in requests grid at the backend
Version 1.1.2
May 24, 2019
Version 1.1.1
Mar 29, 2019
Added missing localization file
Fixed mysql error on client consents page when table prefixes are used
Version 1.0.0
Initial Release
Consents in the following forms:

Newsletter
Contacts
Registration
Product Reviews

Ability to request account deletion from Privacy Tools page