Argento Changelog
Version 0.9.10
Fixed critical vulnerability in EasyBanner module
Extensions Updates
AjaxPro — 1.2.3

Fixed invalid xml layout update instructions
Improved compatibility with third-party modules

EasyBanner — 1.0.12

Fixed critical SQL vulnerability

EasyTabs — 1.2.1
ReviewReminder — 1.0.10

Fixed wrong product url in email on multi-website store installation

SoldTogether — 1.2.2

Fixed error when product is not available in registry
Version 0.9.9
Extensions Updates
EasySlide — 1.1.4

better widget compatibility with third-party modules

Highlight — 1.1.2
Facebook Like Button — 1.1.0

added custom like button layout

EasyTabs — 1.2.0
Version 0.9.8
Magento 2.2 compatibility
Version 0.9.7
Version 0.9.6
Screenshots
List of Included Themes
Argento Blank — 0.9.6
Argento Essence — 0.9.6
Argento Flat — 0.9.6
Argento Pure2 — 0.9.6
Argento Mall — 0.9.6
Extensions Updates
Ajaxsearch — 1.2.3

Without limit bug was fixed in product provider

Askit — 1.2.4

Cms pages integration
Catalog categories integration
You can search Askit questions in Magento admin top search
Grid massactions logic fixed
Grid full-text search fixed

Easybanner — 1.0.8

Fixed bug using multiple banners on one page

Rich Snippets — 1.0.5

Sort order fixed
Acl added
Fixed error in breadcrumbs json
Added config to disable snippets
Version 0.9.5
Screenshots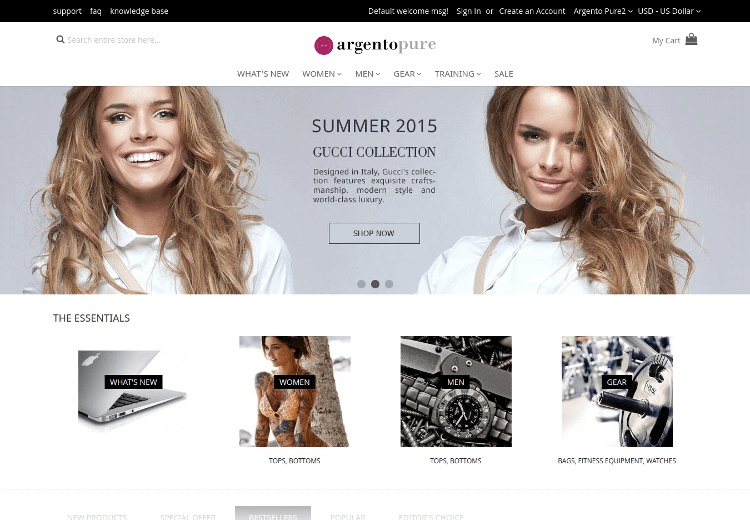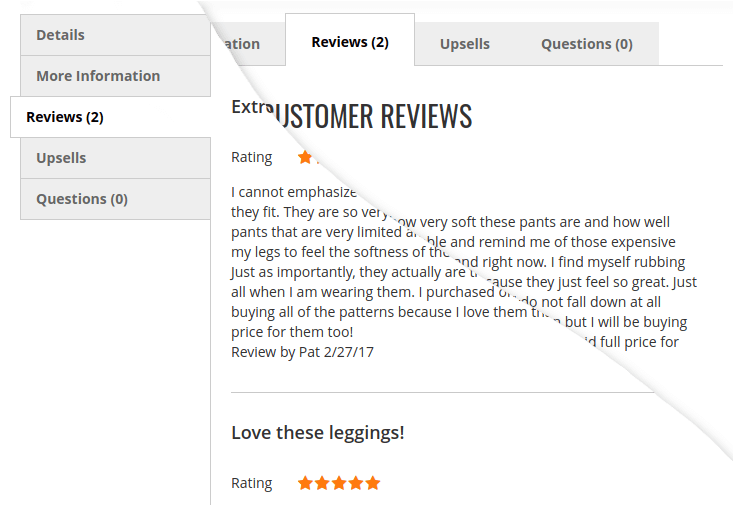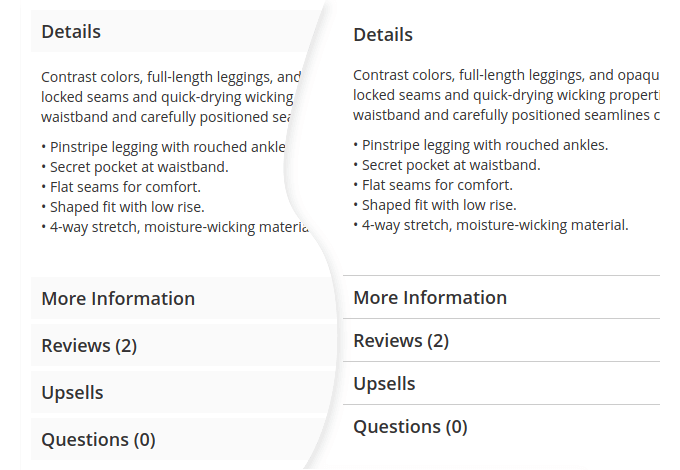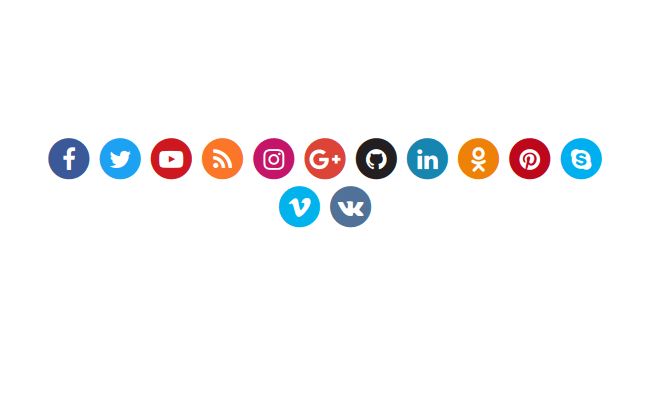 ArgentoPure2 theme added. View Docs
Sticky header added to the ArgentoFlat theme
Improved reviews styles on small laptops and tablets
Improved accordion styles
Removed "Add to cart" button from products listing on small devices
Vertical tabs added for laptops and tablets because horizontal tabs does not fit the screen width
Bootstrap's col-md-* breakpoint changed to 768px
Colorful socials icons added
Many small css improvements
Fixes
Fixed horizontal scroll on checkout page
Fixed FontAwesome icons vertical alignment
Fixed incorrect position of submenu dropdown
Fixed invalid dependency in jquery.visible plugin which cause js error in developer console
Developer improvements
ArgentoSticky script added. View Docs
New mixins and classes:
List of Included Themes
Argento Blank — 0.9.5
Argento Essence — 0.9.5
Argento Flat — 0.9.5
Argento Pure2 — 0.9.5
Extensions Updates
Ajaxsearch — 1.2.2

Final_price replaced min_price in price template
Small css fixes

Askit — 1.2.4

Fixed toolbar amount position on mobile devices
Admin email notification was fixed
Adming functionality fixes

Easybanner — 1.0.7

Fixed Image insert using WYSIWYG editor

Easyslide — 1.1.1
FontAwesome — 1.2.0
Prolabels — 1.2.0

Fixed missing badgets after cron job
Small fixes
Version 0.9.4
ArgentoFlat theme editor added
Small css fixes to improve css customization in:

Product listing widgets
Footer links styles
ArgentoFlat jumbotrons
Prolabels
Fixed possible duplicate label in widgets listings
Improved label loading method
FontAwesome
Added ability to use font-awesome icons for backend modules
Version 0.9.3
Screenshots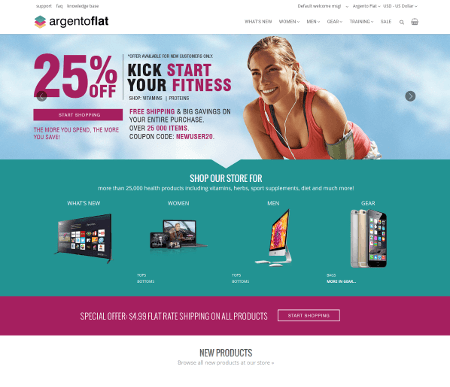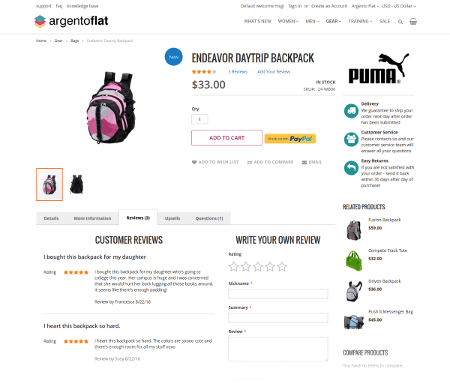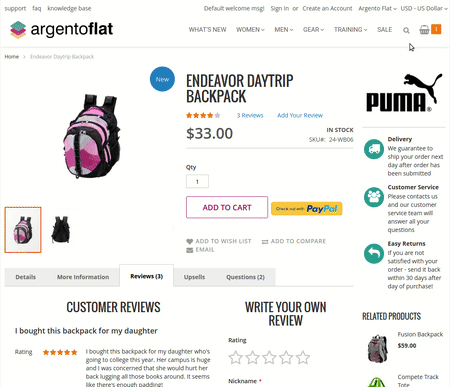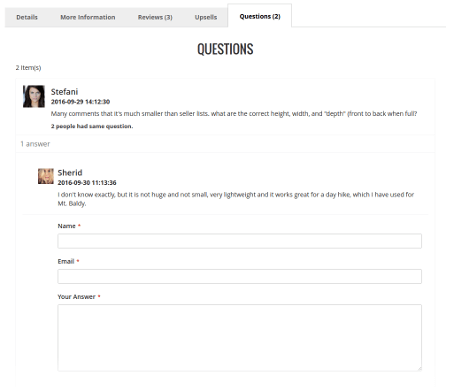 ArgentoFlat theme added. View Docs
More Less variables to match developer customization needs

Product listing variables
Additional Product Tabs variables
Additional Navigation variables
Crossell, Upsell, Related products variables

Product questions count added to tab title
Improved product listing styles stability in various browsers
Improved Rewiews Tab styles for large screens
Added ability to include custom.js file
Many small css fixes and improvements
List of Included Themes
Argento Blank — 0.9.3
Argento Essence — 0.9.3.1
Argento Flat — 0.9.3
Extensions Updates
Ajaxsearch — 1.2.0

Added Folded Design feature, that hides input field and shows it in fullscreen mode with nice effect
Small css fixes

Askit — 1.2.0

Added ability to show questions count in tab title
Improved questions styles
Styles rewritten in less with bunch of new variables that allow to change design easely

Easybanner — 1.0.6.4

Fixed empty spacing below banner
Fixed banner url to product and category pages

Easycatalogimages — 1.1.1

Fixed issue in automatic category thumbnails assignment, thumbnails are now assigned to default store id

Easyslide — 1.1.0

Fixed empty spacing below slider
Added slider themes:

Dark
White
Default (Blue)

Highlight — 1.1.0

Product listing styles rewritten to allow to use gutter between products

Soldtogether — 1.1.6

Fixed "Add all to cart" button alignment in amazon style mode
Small css improvements
Version 0.9.2
Theme editor added. Read more
Additional LESS variables added to simplify switching between boxed, full-width and standard layout types
FontAwesome configuration added. Now you can choose between CDN and local version.
Fixed product listing glitches in Safari browser
Bugfixes and improvements to:

Attributepages
ProLabels
SoldTogether
Testimonials

Askit module added
Version 0.9.1.2
Additional Magento 2.1 compatibility
Fixed issues with:

Core
EasySlide
SoldTogether
EasyBanners
Prolabels
Version 0.9.1
Magento 2.0.* versions are no longer supported.

Please update to Magento to 2.1 or newer to use latest Argento.
List of Included Themes
| Theme | Version |
| --- | --- |
| Argento Essence | 0.9.2 |
| Argento Blank | 0.8.5 |
Fixes and Improvements
Removed deprecated css fixes for tablet devices:

Added Accordion style to Layered navigation
Better Layered Navigation positioning for small tablets

Homepage products count in sidebar blocks decreased to 2
Fixed missing top border in product listing toolbar elements
Extensions Updates
All extensions updated according to Magento 2.1 version.
All Modules

ACL fixes
Magento 2.1 compatibility

Soldtogether

Slick Carousel added to Customers Also Bought block

Easy Catalog Images

Fixed error with missing Thumbnail class

EasyTabs

Fixed missing js component in review tab

Core

Added AdminNotification to be in touch with latest swissup updates
Version 0.9.0
Important Notice

This release breaks compatibility with previous Argento version because of new Boostrap powered grid system, that replaces a bit buggy previous grid realization.

In order to use new Argento version, you need to:
List of Included Themes
| Theme | Version |
| --- | --- |
| Argento Essence | 0.9.1 |
| Argento Blank | 0.8.4 |
New Argento is shipped toghether with Swissup Module Manager, that could help you to keep Swissup modules up to date and install Argento Theme in a few clicks.
New Extensions
Extensions Updates
All Modules

Dependency injection compilation errors fixed

Ajax Search

Improved dropdown styles
Added animation loader, when ajax request is processing
Fixed search field toggler on tablet devices

Easy Catalog Images

Fixed broken page when placeholder is not deployed into pub/static

Easytabs

Fixed broken backend interface on initial load on some linux servers

Facebook Like button

Fixed frontend error, when config is not saved
Theme styles improvements
General

Bootstrap powered 12 columns grid added
Bootstrap responsive utilites added
Bootstrap responsive embed added
Bootstrap grid utilized to organize footer content
Cms content added aside to logo

Homepage changes

Bootstrap grid utilized to organize content
Banner blocks replaced with Easybanner placeholders
Easyslider styles improvements
Brands slider manual scrolling fixed
All content is properly aligned with theme dimensions

Product Listing

Fixed list mode styles
Grid mode styles improved
Widget styles improved
Version 0.8.1
Initial release